Aayla Secura
Biographical information
Homeworld
Died

19 BBY, Felucia

Physical description
Species
Gender
Height

1.78 meters

Eye color

Hazel

Chronological and political information
Era(s)
Affiliation
Known masters

Quinlan Vos (Jedi Master)
Volfe Karkko (Dark Jedi Master)
Tholme (Jedi Master)
Aayla Secura is a female Twi'lek Jedi Knight who lived during the Clone Wars era. She was one of the few Jedi capable of fighting with two lightsabers, although she usually preferred fighting with a single blue lightsaber. She was killed when her clone squad turned on her due to Order 66.
Star Wars: Battlefront II
Edit
"Aayla Secura, reporting for duty."
In this game, she is a playable hero for the Republic in Jabba's Palace,Felucia and on Mos Eisley during the Hero Assault mode. She has lighsaber throw and Force Pull, as well as being able to block incoming fire with lightsabers (F button, and crouching while doing that will execute combat roll) and possessing Force Speed and Double Jump, like the other Jedi. Because she has two lightsabers, her attacks affect enemies to her sides as well as front and do more damage overall, although not to same extent as with General Grievous.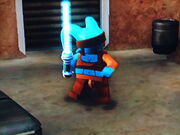 Other appearances
Edit
Community content is available under
CC-BY-SA
unless otherwise noted.