Coruscant
Astrographical
Region
Sector

Coruscant sector

System

Coruscant system

Suns

1: Coruscant Prime

Moons

4:

Centax 1
Centax 2
Centax 3
Hesperidium

Coordinates

L-9

Distance from Core

10,000 light years

Rotation period

24 standard hours

Orbital period

368 local days

Physical
Class

Terrestrial

Diameter

12,240 km

Atmosphere

Breathsble

Climate

Temperate

Gravity

Standard

Primary terrain

Urban cityscape
Mountains

Surface water

29% including the Ice Caps

Points of interest

Eastport
EmPal SuRecon
Galactic Museum
Galaxies Opera House
Imperial Naval Academy
Imperial Palace
Jedi Temple
Western Sea
Manarai Mountains
Monument Plaza
Newport
Senate Building
Skydome Botanical Gardens
The Works
University of Coruscant
West Champianne Landing Field
Westport
Glitannai Esplanade
Holographic Zoo of Extinct Animals

Societal
Native species
Immigrated species
Official language

Galactic Basic Standard

Population

1 trillion

Major cities

Galactic City (capital)

Major imports

Foodstuffs
Medicinal goods

Major exports

Culture

Affiliation

  [Source]
Coruscant was a planet that was covered with one immense city. It was the location of the Jedi Temple and Dexter's Diner. It was Galactic and Political center of the galaxy.
Star Wars: Empire at WarEdit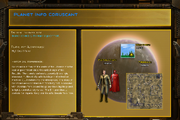 In Empire at War Coruscant is the base planet for the Galactic Empire, a black market can be made here and many structures. A level 5 Space Station can be built here as well.
Imperial Royal guards are automatically produced as free units for the Empire and the citezens side with the Empire as well. Two free shield generators protect any structures the Empire has built on the Planet.
Appearances
Edit