Naboo
Astrographical
Region
Sector

Chommell Sector

System
Suns

1: Naboo

Moons

3: Ohma-D'un, Rori, Tasia

Coordinates

0-17

Distance from Core

34,000 Light Years

Rotation period

26 standard hours

Orbital period

312 standard days

Physical
Class

Terrestrial

Diameter

12,120 km

Atmosphere

Oxygen Mix, Type I (Breathable)

Climate

Temperate (In Life Zone)

Gravity

Standard

Primary terrain

Rolling Grassy Plains
Swamps
Forests
Grassy hills

Surface water

85%

Points of interest

Lianorm Swamp
Lake Paonga
The Emperor's Retreat
Great Grass Plains
Gallo Mountains
Solleu River
Caves of Eleuabad
Sacred Place
Lake Country
Varykino
Ranchlands
Lors

Societal
Native species
Immigrated species
Official language

Galactic Basic Standard

Population

4.5 billion

Major cities

Theed (Human capital)
Otoh Gunga (Gungan capital)
Keren

Major imports

Processed foods
Technology

Major exports

Plasma
Grains
Art
Cultural items

Affiliation

  [Source]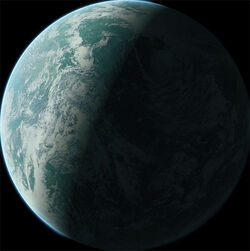 Naboo was a planet. The capital city of Naboo was Theed. The planet was invaded by the Trade Federation ten years prior to the Clone Wars.
The planet of Naboo is crawling with many different creatures as seen in Star Wars Episode I: The Phantom Menace. Naboo is one of the most living planets in the whole series, especially compared to Tatooine. Species such as humans, gungans, and many more forms of intelligent life inhabit the planet.
History in warfare
Edit
The War between Gungans and Humans
Edit
It is well known and mentioned in Star Wars Episode I: The Phantom Menace that there was a disagreement and war between humans and gungans. After the war, humans created cities and built weapons to protect themselves from invaders, possibly even the gungans. There are many refferences of this particular war in history and in the series. It is said so even in the end of The Phantom Menace.
The Battle of Naboo (Theed)
Edit
The planet is invaded by the Trade Federation in Star Wars Episode I: The Phantom Menace. The planet's main government system did not have a military, thus the gungans happily agreed to help the planet. They put their "Grand Army" in the fields and were guarded by a shield. They were victorious at the end of the battle and became friends and allies with the humans who inhabit the planet. They joined the Galactic Republic with Naboo.
Appearances
Edit
Community content is available under
CC-BY-SA
unless otherwise noted.