Star Wars: The Clone Wars: Republic Heroes is an upcoming video game that allows the player to control several Jedi and clone troopers to fight against Confederate forces controlled by Kul Teska and to pursue a bounty hunter called Cad Bane.[2] The game is being developed by Krome Studios for the PC, Xbox 360, PlayStation 3, Wii, PlayStation 2, PSP, Nintendo DS.[2]
Storyline
[
]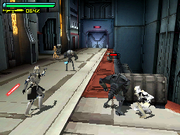 The game merges in with the storyline of the series that it is based on, and primarily focuses on finding Cad Bane, a bounty hunter and Kul Teska a leader of the CIS.[2] It also fills in the gap between the first and second series of the TV series.[3]
Nintendo DS
[
]
The Nintendo DS version has a seperate storyline, expanding on the series one storyline.[4] It will also make use of the touch screen.[3]
Appearances
[
]
Characters
[
]
Droids
[
]
Planets
[
]
Organizations and titles
[
]
Sentient species
[
]
Vehicles
[
]
Technology
[
]
rocket lancer

Behind the scenes
[
]
The same voice actors used for the television series Star Wars: The Clone Wars were used in the game.[4]
See also
[
]
External links
[
]
References
[
]