Taris
Astrographical
Region
Sector

Ojoster Sector

System
Suns

1: Taris

Moons

1: Rogue moon

Rotation period

24 standard hours

Orbital period

314 local days

Physical
Class

Terrestrial

Diameter

12,200 km

Climate

Temperate

Gravity

Standard

Primary terrain
Points of interest

Swoop track
Undercity
Upper city
Lower city
Taris Dueling Ring
Middle city
Jedi tower

Societal
Native species
Immigrated species
Official language

Galactic Basic Standard

Population

6 billion (before Jedi Civil War)
1 billion (following reconstruction)

Major cities

Ecumenopolis

Major imports
Major exports

Luxury items
Tarisian ale
Technology

Affiliation

  [Source]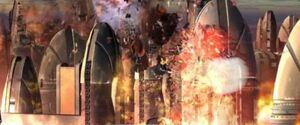 Taris was a city-planet much like Coruscant. It was the site of many major swoop races, the most famous of which being the Taris Season Opener, where many seasoned professional swoop racers competed for the fame that came with the win.
Taris, was the planet that the Galactic Republic escape pods crashed on after the Hammerhead-class capital ship Endar Spire was destroyed by a Sith Interdictor-class Cruiser.
The planet was blockaded by the Sith during the Jedi Civil War, and later heavily bombarded from orbit by the Sith in an attempt to kill Bastila Shan, a Jedi who escaped the Endar Spire, but crashed on the planet.
Taris had three major levels: the Upper City, where Human nobles lived, the Lower City, where aliens and swoop gangs resided, and the Undercity, a rakgoul-infested level where the exiled Humans were forced to.
Apperances
Edit
Community content is available under
CC-BY-SA
unless otherwise noted.